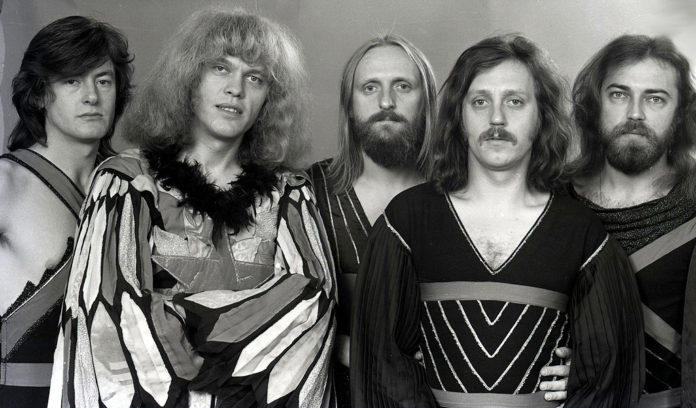 Do you enjoy listening to Hungarian music? What if I said the golden age of Hungarian music wasn't now? You may call me nostalgic, but believe me, the music was much better in the 80's. The bands of that age are still able to fill the biggest arenas with fans. They are so famous, that even today's youth knows most of their hit songs by heart. Just take a look (I mean listen), and you will see.
The party-maker pop-stars
Our musical journey begins with the glowing star of the 80's, the band that has sold over 6 million (!) albums in Hungary, and 1,5 million worldwide. By comparison nowadays it only takes 2000 sold albums to get a gold album, and you can get a platinum one with just 4000 copies. This band was so famous that they sold albums even in Japan. They were the "Neoton Família". Let's listen to them:
The rock-idols
After this frenetic start let's cool down with one of the most successful Hungarian rock band of all time. They are the "Omega". They have started playing music in 1962, the decade in which "The Beatles" got famous. They have been playing quality rock music for the last 55 (!) years, and they are still active. They have sold over 7 million albums in Hungary, and achieved great international success. Some of their songs appeared in English, too.
Let's listen to their most famous song, "Gyöngyhajú lány", which means "Pearlhaired Girl". This is a 1969's song, which isn't exactly the 80's, but it was played in every house-party in the 80's. It even became an international hit from the "Scorpions" with the title "White Dove". Nowadays Kanye West is using it in his track "New Slaves". So listen to "Gyöngyhajú lány", and watch the ecstasy of the audience! They know every verse of this song, as most of the Hungarians do.
The exotic ones
Let's pump up the volume with a band called "Bonanza Banzai". They used to be called "the Hungarian Depeche Mode". Their music even got in the Japanese NHK TV's New Year programme in 1990. Let's listen to their hit song: "Induljon a banzáj!", meaning "Let the banzai start!" Just look at that video clip, it's pure 80's. 🙂
The national feeling
Let's slow down again with the most well-known Hungarian rock-opera of all times: "István, a király". This rock-opera summarizes the quint-essence of Hungarian national feeling,  thus, it became a smash hit almost instantly as it appeared in 1983. It is still very popular, a new version appeared in 2013, but it got mixed reviews. The original one is holding on to its throne, so it seems.
The plot revolves around the Hungarian state-founding, and the crowning of the very-first Hungarian king, István the Saint. It may sound boring and dull, but, believe me, it isn't. This song will move your heart, and you will catch what does "feeling Hungarian" mean.
The spirit of rock-and roll
Let's continue with a famous Hungarian rock and roll band called in style "Hungária".
Their lead singer was Fenyő Miklós, and he sang rockabily. They got so famous that they held a concert at Népstadion in front of 150,000 people in 1982. The following song's title is "Micsoda buli", meaning "Such a party".
The unappreciated singer with a unique voice
The next song is a duet, song by Cserháti Zsuzsa, a pop-soul-jazz singer with a unique voice, and Charlie, a Hungarian soul and rock singer. Unfortunately I couldn't find a video clip or live concert video featuring these two, but just listening to the song is worth it.
The song's title is "Száguldás, Porsche, Szerelem", meaning "Rush, Porsche, Love". Just listen and feel the rush.
The rebels
Let's continue with a rock band called Beatrice. They started with punk and moved on to hard rock. It often criticized the ruling socialist regime. Look at the following video clip, the contrast between the lyrics (a love story that comes to an end), and the video (an imagery of war and oppression). Rebellion expressed through music.
The sexy pop singer
Let's move towards a lighter genre, namely mainstream pop music. The following singer, Zoltán Erika sold over one and a half million copies of her albums. Let's listen to her song "Túl szexi lány", meaning "Too sexy girl". The video clip isn't the best quality but bear in mind that this is an original from the 80's. Enjoy it!
The unique "csikidam" style
Here comes another pop-music band, R-Go. They have a unique style, namely "csikidam", which is a combination of latin-American music, funky and rock. Listen to their hit song "Ballag a katona", meaning "The GI is trudging".
The fathers of all rock music
Last, but not least comes a band that is one of the sacred idols of Hungarian rock music. They are called "LGT" or "Locomotiv GT". Their role in the birth of the Hungarian rock music is unquestionable. The following song is not from the 80's, but from the 70's, however, it has been played during the 80's in parties. It is still well-known to all Hungarians. It is called "Ringasd el magad", meaning "Rock yourself".
Now let's learn some Hungarian vocabulary regarding music.
Did you like this post? Please, share it with your friends! Thank you.